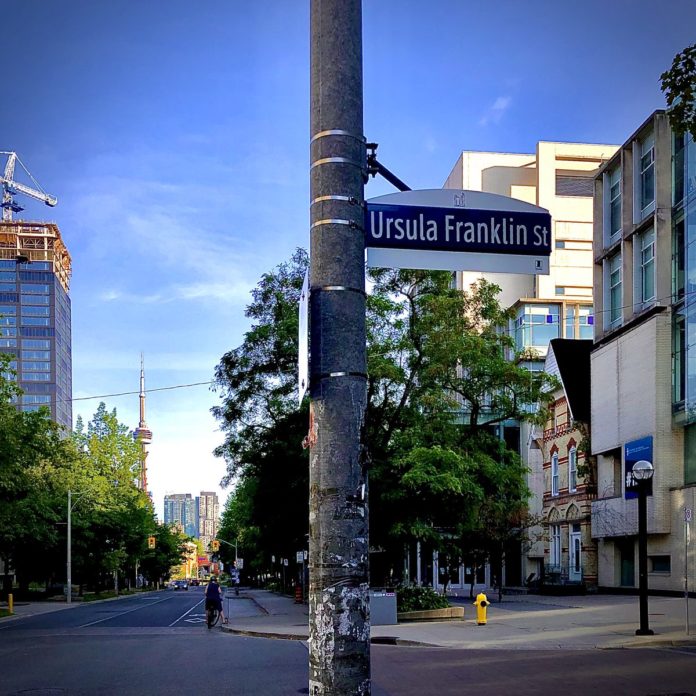 The University of Toronto this week commemorated the renaming of a street on the St. George campus in honour of University Professor Emerita Ursula Franklin (MSE), the distinguished physicist and metallurgist who taught at U of T Engineering for more than 40 years.
Ursula Franklin Street connects Spadina Avenue and St. George Street on the western strip of campus, near the heart of U of T's engineering footprint and such key buildings as the Myhal Centre for Engineering Innovation & Entrepreneurship.
Formerly Russell Street, the renamed roadway now commemorates one of the most influential scientists and engineers in Canada's history and a feminist and peace activist whose contributions transcended her prolific scholarly achievements.
"Professor Franklin was an outstanding scholar and a beloved teacher who spent enormous amounts of time mentoring students," said Vice-President and Provost Cheryl Regehr at a small ceremony held on campus Monday. "She was also known for her incredible advocacy, as an advocate of women and girls and a peace activist.
"This street – this historical marker – is a true testament to Professor Franklin's cherished intellect and societal impact. We are so very proud to have it here at the University of Toronto."
Monday's ceremony was also attended by several members of Franklin's family and Dean Chris Yip, U of T Engineering.