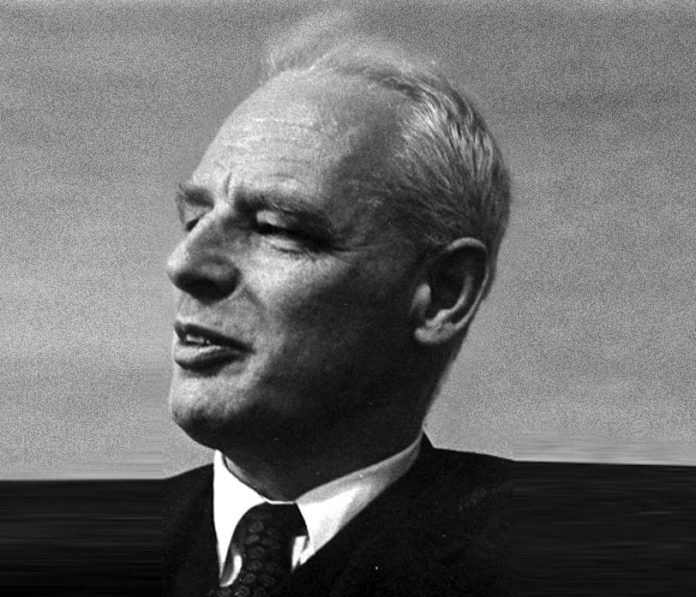 Eric Alfred Havelock was born in London, England, on June 3, 1903, the son of Alfred H. and Annie Louise (Williams) Havelock. As a young boy, he lived in Scotland, attending Greenock Academy where he was introduced to Greek at age twelve. From 1917 to 1926, he was at Cambridge, first at Leys, an English public school, where he studied under W. H. Balgarnie, a classics professor after whom James Hilton's Mr. Chips was created. In 1922 Havelock won a scholarship to Emmanuel College, Cambridge University, and graduated in 1926 with distinctions in the classical tripos and ancient philosophy.
Migrating to Canada, Havelock served as assistant and associate professor at Acadia University in Nova Scotia from 1926 to 1929 and was an associate professor at Victoria College at the University of Toronto from 1929 to 1947. In addition to his academic responsibilities, he pursued outside political interests. A former member of the British Labour Party, Havelock continued his participation in the liberal cause and was active in local politics. He was a founding member of the League for Social Reconstruction in 1930 and was elected to the provincial council and executive committee of the Co-operative Commonwealth Federation (CCF) which merged with the Canadian Labour Congress in 1961, emerging as the New Democratic Party. In 1945, he ran unsuccessfully as a CCF candidate for the constituency of South Wellington to the Ontario legislature. He was also the associate editor of the Canadian Forum. On the academic front, he was a Guggenheim Fellow in 1941 and 1943 and co-founded the Ontario Classical Association, parent organization of the Canadian Classical Association, in 1944, serving as its first president and associate editor of its publication, The Phoenix.
In 1947, Havelock moved to Cambridge, Massachussetts, to assume academic posts at Harvard University: senior tutor in Leverett House (1947-1950), associate and full professor of Greek and Latin (1947-1963), chairman of the Classics Department (1956-1961), and acting chairman in 1962. He was a member of the Harvard Committee on Admissions and Scholarships (1948- 1963), and a member of the Board of Trustees of Radcliffe College (1959-1963). During this time, he assisted in the drafting of the recommendation that female students receive a joint degree with Harvard. He also participated in the formation of the proposal establishing the Center for Hellenic Studies in Washington, D.C. and was a senior fellow on the governing board (1965-1973).
Visiting professorships at Princeton University (1961-1963) preceded Havelock's appointment as Sterling Professor of Classics at Yale University (1963-1971) and chairman of the Classics Department (1963-1969). Upon his retirement from Yale in 1971, Havelock was the Raymond Distinguished Professor of Classics at the State University of New York, Buffalo (1971-1973).
Havelock lectured at numerous North American and European academic institutions and was the author of numerous scholarly articles and books: The Lyric Genius of Catullus (1939), The Crucifixion of Intellectual Man (1950), The Liberal Temper in Greek Politics (1957), Preface to Plato (1963), The Greek Concept of Justice (1975), The Literate Revolution in Greece and Its Cultural Consequences (1983), The Muse Learns to Write (1987), War as a Way of Life in Classical Culture (Vanier Lecture), Prologue to Greek Literacy (Semple Lecture), and Origins of Western Literacy. He was co-editor with Yale English professor Maynard Mack for the Prentice-Hall Greek Drama Series (1970-1973) and with Jackson Hershbell for Communication Arts in the Ancient World (1978).
Havelock married Ellen Parkinson in 1927, and had a daughter, Joan Ellen (Mrs. Richard Wheeler-Bennett), two sons, John Eric and Ronald Geoffrey, and ten grandchildren. In 1962, he married Christine Mitchell, professor of art at Vassar College and author of Hellinistic Art. Havelock died at his home in Poughkeepsie, New York, on April 4, 1988, after a short illness.